Titisee - Neustadt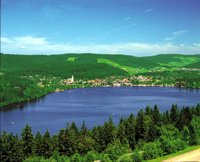 The scenic highlight of Titisee - Neustadt is doubtless the fantastic setting of Titisee lake whose crystal-clear water attracts thousands of enthusiastic swimmers to the healthy climate of the resort town bearing the same name. Since its conversion to a pedestrian zone and waterfront promenade, Seestraße is considered the loveliest street for strolling in the Southern Black Forest.
The vacationing guest will find a broad selection of Accommodation which ranges from rustic, well-equipped inns to comfortable apartments as well as middle-market and first-class hotels.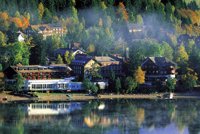 Neustadt has more of a village atmosphere, inviting one to stroll and shop and, due to both its central and yet charming scenic location, it is the starting point for many a hike and outing in the surrounding area.
Sports play a big role in Neustadt. The annual Black Forest Ski Jumping Tournament with international stars takes place at the "Hochfirstschanze", the largest natural ski jump in Germany while table tennis players from the 1st and 2nd national leagues meet in Neustadt every year for the Black Forest Table Tennis Tournament.
More Information about Titisee - Neustadt
Tourist-Information
Postfach 2052
D-79815 Titisee-Neustadt
Tel. +49 7651/9804-0
Fax +49 07651/9804-40
touristinfo@titisee.de
www.titisee.de